Micronutrients are an important part of good health, and are essential for the proper performance of all body functions. Micronutrients are minerals and vitamins, which are very crucial for optimal health. Vitamins are natural chemicals that we need for processes such as growth, reproduction, and general well-being.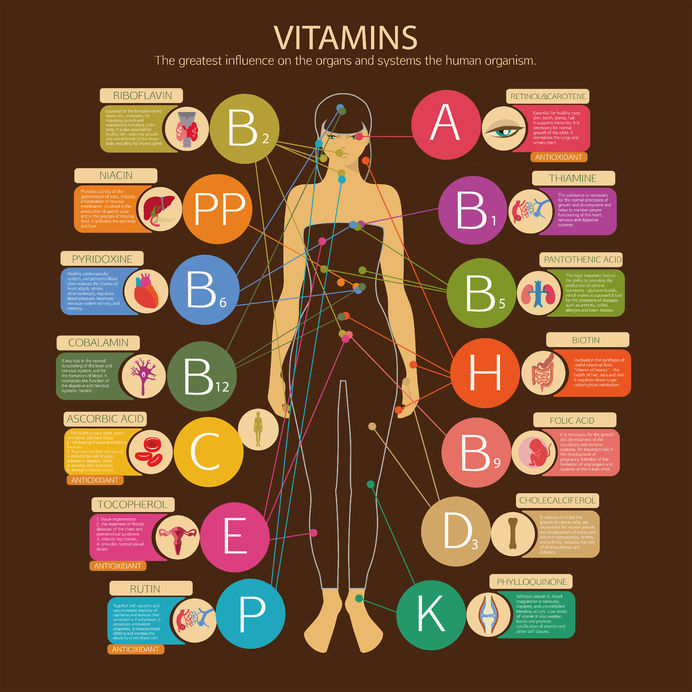 Are Micronutrients Different Than Macronutrients?
Micronutrients are not the same as the macronutrients found in protein, carbohydrates and fats. Micronutrients are considered micro-nutrition since our body requires only very tiny amounts of them for basic survival. However, if the body does not get the necessary amounts of micronutrients required for optimal body function, then severe health complications may arise. [1]
Micronutrients Rich Diet
Obtaining the minimum required levels of micronutrients in the daily diet is not difficult. Eat lots of fresh fruits and vegetables spanning the rainbow, such as red cherries, purple grapes, yellow bell peppers and orange carrots. However, even with a well rounded fresh, raw diet many people find that they are still deficient in micronutrients and that they need to supplement.
Effects of Micronutrient Deficiency on Health
Micronutrient deficiency may result in severe health issues. Even the World Health Organization believes that micronutrient deficiency poses a massive danger to the health of adults and children. Some common micronutrient deficiencies include iodine deficiency, vitamin A deficiency, magnesium deficiency and iron deficiency. It is important to note that when one deficiency is addressed, it can create an imbalance of other nutrients, which is why a healthy diet and broad spectrum supplementation is important.
For instance, iodine deficiency is noted as the world's leading source of brain injury. Iodine deficiency can lead to severely serious circumstances during pregnancy. This deficiency can possibly lead to stillbirth and miscarriage, sometimes it may progress to brain damage. Luckily, it is readily prevented by proper supplementation. [2]
Micronutrients
Micronutrients play an essential role in our wellness. Vitamins, antioxidants, and other food-derived chemicals protect our bodies against infection, slow the aging process, and help the human body function at an optimum level. Micronutrients have a special role in general wellbeing, and a lack thereof can seriously affect your health. Eating a whole-food, high-quality diet with a number of vegetables, fruits, and protein diet used to be the very best approach to acquiring micronutrients. However, science has shown that fruits and vegetables now contain much less nutrients than they did 40 years ago due to soil depletion, chemicals and over processing, which underlines the importance of proper supplementation with broad spectrum micronutrients.
Sodium, for example, is an essential mineral responsible for keeping the appropriate fluid balance in the human body; it assists fluids to pass through cell walls also helps to modulate proper pH levels in the bloodstream.
There are many possible causes micronutrient deficiencies including leaky gut syndrome, Candida, inadequate diet, blood sugar disorders, disease and disorders and chronic anxiety. You can improve your micronutrient uptake by healing your intestine, embracing anti-inflammatory nutrition, reducing stress and enhancing sleep, encouraging stomach acid and enzymes, and also using clinical micronutrient supplements. [3]
Types of Micronutrient Deficiencies
Deficiency of Vitamins
Vitamin deficiencies happens if there is an inadequate or bad caloric intake of essential vitamins. Insufficient levels of vitamins might bring about a range of poor health conditions and result in body weakness and vulnerability to a lot of diseases.
Types of Vitamin Deficiency
Primary Stage Deficiency
Primary deficiency happens when insufficient vitamin consumption causes an individual to become paralyzed. It is due to lacking essential levels of important vitamins in the daily diet; which is readily treated by clinical micronutrient supplementation.
Secondary Stage Deficiency
If a deficiency occurs as a consequence of disease or lifestyle, this is known as a secondary deficiency. By way of example, smokers will need to increase their consumption of vitamin C by a large percentage. Another example is when lifestyle causes minimal sunlight exposure which leads to a deficiency in vitamin D levels. This deficiency can affect the calcium absorption needed for healthy bones as vitamins C & D are dependent upon each other for proper uptake. This is another reason for broad spectrum micronutrient supplementation as opposed to single element supplementation.
Most Common Diseases Occur Due to Deficiency of Micronutrients
Beriberi
Beriberi is caused by the absence of thiamine vitamin B-1. Beriberi is a rare illness among Americans since most foods consumed from America are enriched with vitamins. If someone eats a wholesome diet, they most likely consume enough thiamine. In the USA, beriberi is most frequently found among alcoholics or those who misuse alcohol. Excessive alcohol intake may lead to poor nutrition, and it makes it more difficult to get an individual's own body to absorb and keep thiamine. Frequent symptoms related to beriberi include difficulty walking, diminished sensation in the palms and feet, decreased muscular function or paralysis of the lower thighs, confusion, pain, and rapid eye movements, nausea and shortness of breath during exertion, greater heartbeat and reduced leg swelling. [4]
Pellagra
Pellagra is also called vitamin B-3 deficiency. It takes place every time an individual fails to acquire adequate quantities of niacin, or vitamin B3, or tryptophan. Niacin is a fat-soluble B vitamin which helps the digestive tract, nerves, and skin. The most typical reason for pellagra is inadequate quantities of niacin or tryptophan from the diet plan. This condition also happens when an individual's body fails to consume those nutrients due to poor absorption, or after specific gastrointestinal disorders or alcoholism. MedlinePlus.com says that pellagra generally succeeds in people that consume considerable quantities of corn or maize. Frequent symptoms and signs related to pellagra include delusions, nausea, vomiting mucous membranes, mental confusion and bronchial blisters on an individual's skin. [5] Again, with proper micronutrient supplementation this serious disease can be avoided.
Rickets
Rickets is a disease which affects a child's bones, making them turn tender and break easily. This disease is caused due to the deficiency of vitamin D, though heredity may play a part in this disease. Vitamin D is critical since it assists an individual's bones to absorb calcium and calcium in the food. Frequent signs of rickets include delayed development, pain at the spinal or cervical bones, joints and ligaments, muscle fatigue, cavities and difficulties with dental health. The treatment for rickets is contingent upon the kind of rickets an individual has. If rickets is brought on by nutrient deficiencies, increasing ingestion of broad spectrum micronutrient supplementation including vitamin D and calcium is also generally useful in restoring wellness.[6]
Night Blindness
The cause of night blindness is often caused by a deficiency in Vitamin A. Clinical micronutrient supplementation ensures proper uptake of vitamin A which supports eye health. [7]
Scurvy
Scurvy is caused by a vitamin C deficiency. It may result in nausea, disability, fatigue, spontaneous bleeding, and pain in the limbs, and particularly the thighs, swelling in some regions of the human body, and at times ulceration of the teeth and loss of the tooth. Scurvy is characterized by overall malaise and lethargy, progressing to rough skin, shedding of teeth, and swollen and bleeding gums. Slow wound healing and weakness is also a typical symptom. If left untreated, scurvy could be deadly. Scurvy was initially noted among individuals who spent quite a very long time at sea. Boats would carry non-perishable foods like salted dried and poultry grain. Therefore sailors ate very few fruits or veggies. [8]
Recommendation
Although needed in relatively small quantities, micronutrients are vital for the correct performance of each system in the human body and therefore are essential for good health. There are two types of micronutrients, minerals, and vitamins.
Every vitamin and mineral is responsible for a particular part of the body's physical function. Our bodies cannot make any of these micronutrients. Therefore they have to be provided through diet and supplementation. Various foods contain small levels of minerals and vitamins. This day and age, our food contains less nutrients than ever before, therefore proper supplementation is crucial.
Vitamin A is also an essential micronutrient necessary for healthy vision and gums, vitamin C to get a healthy working immune system, and Vitamin E is a potent antioxidant that can help combat free radical damage within the body. We are in need of vitamin D for healthy bones and immune system, and also our B vitamins for energy creation, nervous system health and for proper digestion.
Additionally, there are essential minerals which play significant roles within the body like iron required for red blood cell production, calcium for healthier bones and teeth. The purpose of calcium is associated with the nervous system. As far as benefits of zinc are concerned, it is good for healthy skin, reproductive and immune function. Selenium serves as an antioxidant agent to guard the body against chronic ailments and premature aging.
Conclusion
Vitamin deficiency can create a huge negative impact on health. Eating healthy and supplementing properly can prevent the deficiency of those vital vitamins and minerals. Clinical broad-spectrum micronutrient supplementation can be obtained using supplements such as Daily Essential Nutrients by Hardy Nutritionals®.
References