Micronutrient researchers Dr. Julia Rucklidge and Dr. Bonnie Kaplan joined The Higher Practice podcast with Dr. Will Van Derveer and Keith Kurander to discuss why nutrition is actually the foundation of better mental health.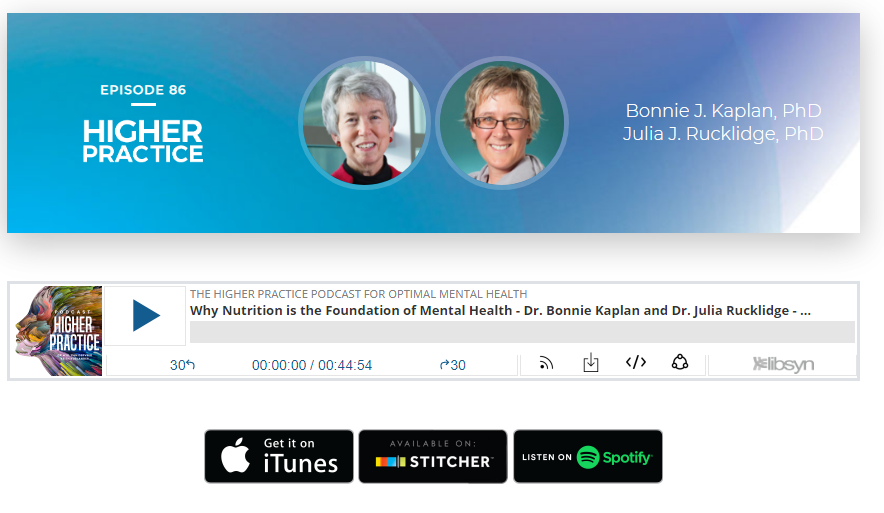 Drawing from decades of experience working in the field of nutrition for mental health, Drs. Rucklidge and Kaplan have co-authored a book titled "The Better Brain: Overcome Anxiety, Combat Depression, and Reduce ADHD and Stress with Nutrition," to be released on April 20, 2021. The book includes a foreward from Dr. Andrew Weil.
In the book, Dr. Rucklidge and Dr. Kaplan uncover hidden causes behind the rising rates of mental illness, from nutrient deficiency in our soil to over-reliance on processed food, and introduce a comprehensive program for better brain health. In their chat with The Higher Practice, they delve into some of these concepts, including "the truth behind ultra-processed foods," and "choosing the right foods."

Leading the discussion are Dr. Van Derveer and Keith Kurlander. Dr. Will Van Derveer practices integrative psychiatry globally and co-founded the Integrative Psychiatry Institute. His co-founder, Keith Kurlander, suffered from bipolar disorder and a multitude of other diagnoses before achieving balanced mental health using Dr. Van Derveer's integrative therapy model. Together, they're introducing these holistic tools to hundreds of psychiatrists across the globe as they host the "Higher Practice" podcast.
Below are some highlights from this episode of the podcast. To listen to the full episode, click here.
The Importance of Nutrition
When setting out to write The Better Brain, Dr. Rucklidge and Dr. Kaplan set out to learn as much as they could about the eating habits of individuals in North America. What stunned them was that less than 20% of the population were meeting the necessary requirements for fruit and vegetable consumption. In addition, about 50% of the caloric intake came from ultra-processed food.

"When you look at that in itself... it sort of hits you on the head. That's where you need to start. People are simply not eating foods that are nutrient-dense," Dr. Julia Rucklidge explained.

Rather, Americans are turning towards ultra-processed foods, which are high in calories but clearly low in micronutrient content. Foods high in macronutrients; fats and carbohydrates, but that struggle to reach even the recommended dietary allowance for many nutrients that are essential for brain health.
"We need to change this ratio," Dr. Rucklidge implores. "We need to be increasing the whole food consumption of the population and reducing and eliminating the consumption of ultra-processed foods."
Why Do People Dismiss Vitamins and Minerals?
Through all of their research, Drs. Kaplan and Rucklidge kept coming back to one important question - why do people dismiss vitamins and minerals in the discussion of mental health?
"Laypeople all the way up through physicians are not taught what nutrients do in the brain. All we're taught about is to eat a balanced diet so that you have strong muscles and bones. And that's been true in my entire lifetime, nobody is saying 'by the way, your brain metabolism is based around cofactors that you need billions of times every minute,'" Dr. Kaplan shared.

To sum up, she says the problem comes down to "education, education, education."

Dr. Rucklidge adds the media has a part to play as well. Negative coverage, or lack of coverage at all, affects the way Americans perceive vitamins. If the media is apt to publish stories about vitamins being quiet killers, that does a lot to the reputation of micronutrients.
"The dieticians are the ones that we would typically go to to get advice on what we should be eating," Dr. Rucklidge adds. "I feel a little bit let down by dieticians… they typically say as long as you eat a balanced diet, then you don't need to be worried about taking additional micronutrients. But when you drill down on what do they mean by a balanced diet, I honestly think that they're just focusing on fats, carbs, and proteins."

Dr. Rucklidge recalls an encounter with a reporter who shared that he deals with depression, but was mindful of his diet in the sense that he looked at labels, he noticed sugar content, and so on.

"You have totally got it wrong," Dr. Rucklidge responded. "If you're looking at labels, then you don't get what a balanced diet is. You shouldn't be looking at labels, you should be eating whole foods with no labels."

Choosing the Right Foods
Knowing that our soil is depleted of nutrients and our go-to foods are often ultra-processed, Dr. Van Derveer begs the question, What's our best chance at getting the nutrients we need when we walk into a supermarket?
Trying to stay away from packaged foods is the first place to start. In addition, individuals can switch to eating whole foods in season. Joining a local market or shopping for fresh foods in general help. Eat legumes. Frozen fruits and vegetables and canned foods can be cost-conscious ways to get your nutrients without going through a major processing cycle.

And then, of course, supplementing properly with well-balanced micronutrients has been clinically proven to improve brain health. Many people around the world have found success with Hardy Nutritionals' Daily Essential Nutrients, which Dr. Rucklidge and Dr. Kaplan have studied extensively. Read the research here.
Want to learn more? "The Better Brain: Overcome Anxiety, Combat Depression, and Reduce ADHD and Stress with Nutrition," comes out April 20, 2021. Pre-order your copy today and listen to the full podcast here.