You asked - and we listened.
Introducing the new Daily Essential Nutrients powder, available now.
When we created a therapeutic, broad-spectrum formula containing clinical levels of every essential vitamin and mineral, we had to take a lot into account. Unfortunately, taste didn't top the consideration list in our first attempts. Anyone who has tried older versions of our Daily Essential Nutrients Powder knows that that taste was difficult to mask. Of course, we needed to be sure our formulations were free of sugar, artificial colors, and other unhealthy ingredients which is why previous versions of DEN powder tasted . . . well, not too great.
Our scientists have done it!
The new powder versions of Daily Essential Nutrients have been tested by the pickiest kiddos and the most discerning adults. They pass the sniff test, the taste test, and even the solubility test: they dissolve easily in any liquid—including water! And we've kept our commitment to abstain from using unhealthy additives. The new DEN powders are:
We could not be more excited to announce the additions of these Daily Essential Nutrients powders to our line-up of micronutrient therapy products. Each of these powders contains the Daily Essential Nutrients formulation you have come to love and trust, backed by multiple independent university studies for safety and effectiveness. Daily Essential Nutrients remains, in its powder or capsule form, the world's most research-backed micronutrient formulation for mood and mental health.
Without further ado, let's introduce you to our new powder options: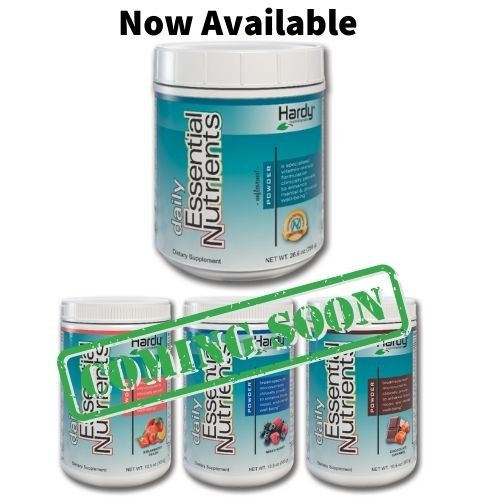 The unflavored version of the new-and-improved Daily Essential Nutrients powder is now available. It mixes great with juices, smoothies, and flavored milks; it simply assumes the flavor of whatever it's mixed into. And it goes down smoothly. No chunks, no grit, no unpleasant scent. In addition, three exciting new flavors will be available for pre-order very soon. Subscribe to our newsletter or follow us on social media to be informed as soon as they are available.
We're thrilled to offer you one more tool to assist your wellness journey.