When it comes to balanced mental and physical health, tracking progress is an imperative part of the journey. At Hardy Nutritionals, we know there is strength in seeing how far you've come, and that's why we are happy to announce that we are now offering a web app that can help.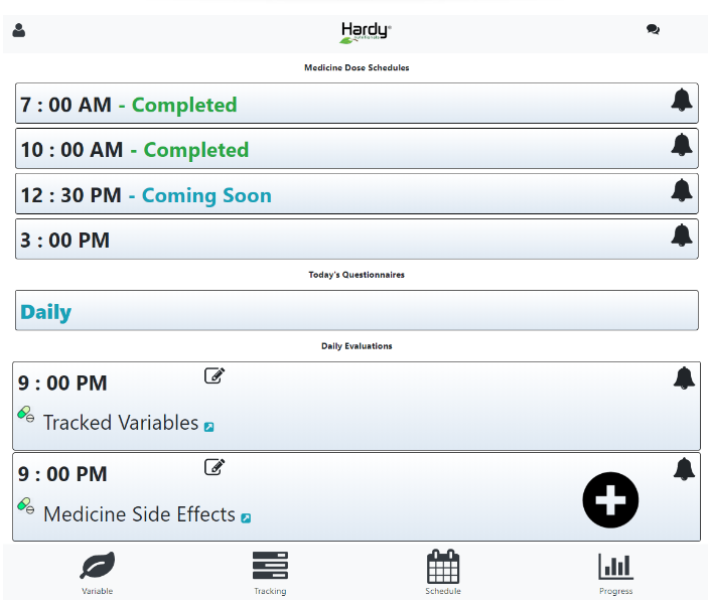 Over the last three years, we have been working to develop a web application that combines our knowledge and expertise in a functional tool. The app is designed to be individualized by the user or health professional to monitor and track progress of mental wellness and mood and then correlate it to the medications or supplements an individual is taking. The app's data collection is highly customizable. "We wanted to ensure we weren't building a box; we wanted this wellness App to be different. We made it to help people learn about themselves and track the things we know will help them achieve their desired results and wellness goals," says Cory Rasmussen, who has helped lead the project team and bring this tool into reality.

It's predecessor, used over a decade ago, produced two published medical journal studies that revealed the benefit and therapeutic value of micronutrients. This new and updated version takes into account many of the things we've learned since then. We are pleased to deliver this free tool for anyone's use.

However, our Hardy Wellness Tracker is new. It's not perfect yet, so we want your help beta-testing it. The tracker will provide customers with a platform to track and manage symptoms and even remind when dosage is due. It will establish a baseline of symptoms and will track the transition to wellness. It will also track your medication dosage, side effects,and over-medication severity. This tool, tied to a global database of medications, will help provide health professionals and patients with some of the indicators needed when deciding to reduce or adjust dosages. It will graphically display things such as results from mood symptom questionnaires, dosage regularity, medication side effects, and much more. We've designed the app with the ability to communicate to a health professional, support person, or loved one by sending graphical summaries of progress charts. The app can also track gut health and lifestyle choices like caffeine or alcohol or simply the number of cups of water a participant drinks in a day.
Participants can either log in or have their dose schedule reminder simply report back at the push of a button. It is brand new, so we ask that participants bear with us as we sand-off the rough edges during this beta test. The app has been three years in the making, but this is the first time we've launched it "live."
Because we value your assistance, after setting up your wellness tracker profile, you will receive a $10 credit on your Hardy Nutritionals account. After tracking your progress daily for 30 days, you will receive another credit for $15. Then after 60 days of active participation, you will get another credit of $20. After 90 days of active tracking, you will receive a permanent discount on future purchases which you will see each time you log-in to purchase.

If you want to use this exciting new tool and be a part of our beta test as we pilot this web app, please send an email to service@hardynutritionals.com or call or text us at 855-955-1114.