This Mom Adds Micronutrients to Food: Sees Incredible Results in Mood.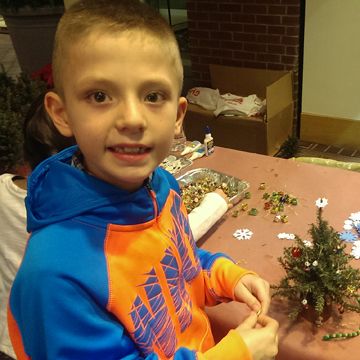 "Hardy's Daily Essential Nutrients, (we call it DEN), was my last resort before I put my 8 year old son on Zoloft because his anger outburst were so bad it was affecting everyone in the family.

For the past 2.5 years my son was becoming angrier each day. He had more occurring outbursts for no apparent reason. One minute he was happy and a few seconds later he was in a mad rage over the simplest things.

For the past year we have met with holistic doctors who have tried numerous supplements with no improvements. It has been a very frustrating year trying to help my son realizing something was making him behave the way he was but not knowing what it was. I could tell that he really wanted to be good, but it was very hard for him, as he could not control anything going on in his body.

This DEN story from another parent just happened to come up on my feed on Facebook and after going back numerous times to read it, I decided to give it a try before I went down the medication route, as I felt there was no other supplement that could help.

We have tried numerous supplements to help calm him and reduce his anger issues. We found through lab work that his serotonin is 3 times a normal child's.

He has tried Kavinace chewables and Calm PRT - both seemed to work at first but after a few weeks stopped.
Other supplements we have tried: 5HTP, Fish oils, L-Thienine, 5-MTHF, Methyl B12 Lozenges, different types of vitamins, Piracetam. All of these did not show any improvements (side note: Each were started slowly and separately to make sure we could tell if it was helping or not).

When we started Daily Essential Nutrients, my 8 year old son immediately showed improvements within the first couple of days and continues to show improvements over time.

He is much calmer and so much happier. He even will tell us that he feels more like himself. I can tell when I look into his eyes now because they look so different than before. He always had these depressed, angry eyes....now his eyes are that of a child...ready to explore and take on the adventures of an 8 year old. He smiles so much more and just talks with his siblings and his dad and me. He used to hit the wall and break things when he was mad. However, since beginning DEN, he has not put his hands on anything. This is huge as we were so concerned he would eventually hurt someone or himself. When he does get upset, he is able to calm himself down so much quicker without going into a full angry outburst as he used to. Prior to DEN he would have been angry for hours, now he can calm himself down in less than 10 minutes. He also is eating more than before DEN.

This has not only impacted my son, but has improved the lives of all who have had to deal with his behaviors the past couple of years. Everyone in the house was so stressed because we wouldn't know what kind of mood he would be in. This led to his 3 other siblings avoiding him altogether (which I did not like, but I also understood why, as it was so hard to live with someone whose behaviors were out of control and changed constantly). Now the house is back to the way it used to be years ago. The kids are all playing together again. No one is walking on eggshells anymore. The spark is back in his eyes and he is once again enjoying his family again.

For Christmas he was given a huge lego set from his grandparents. Normally in the past when given legos he would get mad quickly as it wasn't going together right and eventually it would get thrown and put back into the box never getting completed. This Christmas he sat for 2 days straight for hours at a time and completed his lego set all by himself. He had moments of frustration, but they didn't even last for 10 seconds because he quickly figured it out himself. He was so proud of himself when he completed it. Right then and there I knew the DEN was working and that is what was helping him. I am forever grateful for DEN and that story that came across my Facebook that day.

I have taken Daily Essential Nutrients a few times myself and do feel so much better. When I have taken them, I feel much more focused and energized. I also sleep better.

Both of my boys take all of their supplements with applesauce on a spoon. It takes 5 seconds. They take 4 DEN with breakfast, lunch and dinner. Additionally, my 8 year old takes 1 Omega (also from Hardy Nutritionals) with breakfast and dinner and my 12 year old takes 2 Omegas with breakfast and dinner. My 12 year old, who has severe Apraxia, also takes 1 of Hardy's Aminos with breakfast and dinner (slowly increasing this). However, if we are out then they are both capable of swallowing their pills with water.

My 13 year old daughter who suffers from anxiety and stress, puts Hardy's Inositol in water and drinks it.

To any parent considering micronutrients, I say: Try it!!!!! It is so worth it. For my family it was a life changer. As a biomedical mom I know that many supplements work for some and not for others. This may be the "magic" pill as it was for my 8 year old son and it may not. However, as I see it, if it doesn't give you the response you are looking for than at most you are providing your child with a great vitamin supplement for that month.



"To any parent considering micronutrients, I say:
Try it!!!!! It is so worth it."

You may be very surprised that when you stop giving it, you may see behaviors worsen again making you realize that there might have been improvements the entire time. I know that by giving my two boys DEN daily that they are getting the necessary nutrients they need to continue growing. The positive changes seen within the first month are more than enough evidence for me to believe in the product and recommend it to others."

See Customer Reviews