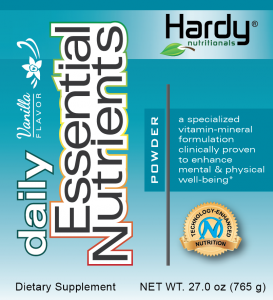 We're very excited to announce that our new Daily Essential Nutrients Powder will be available again on December 4, 2015! We apologize that it took longer to reformulate than the scientists at our lab originally expected and we sincerely appreciate the patience of those of you who have placed pre-orders and have been waiting for this. Even though the processing costs of this new Powder were significantly more than our pervious Powder, we've opted to keep the price to you the same. This one's on us.



Here are some of the key features of our new Powder:

Very fine particle size.
Based on invaluable feedback from health professionals and other customers, we've gone to great lengths to make the particle size very small.


With our new manufacturer's state of the art equipment, they pulverized the product--eliminating grits. This certainly increased the processing costs but will make for much more palatable smoothies and drinks!
User-friendly.
It's vegan-friendly (includes no animal by-products).
Versatile.
To make our Daily Essential Nutrients Powder as universally suitable as possible, we've flavored it with natural vanilla and lightly sweetened it with natural cane sugar and stevia leaf extract.
Recipe options are endless! Use your imagination and expand your options by thinking outside the box.



1 scoop of Powder (equivalent to 4 capsules of Daily Essential Nutrients) is designed to be mixed with at least 1 cup of fruit smoothie (blended berries, melons or other fruits) but can be mixed with yogurt, juice, or other flavored liquid depending on your taste preferences.




Consider adding complementary vegetables, herbs, spices or anything else your imagination inspires.




Add a protein powder of your choice if you'd like.
Slim.
To minimize bulk and also allergy issues it contains no added protein.


Naturally-occurring plant proteins in two Proprietary Blend ingredients (grape seed extract and ginkgo biloba leaf extract) are the only proteins it contains.
A single 2-teaspoon scoop of Powder is equal to 4 capsules of Daily Essential Nutrients!
A bottle of capsules or Powder will last the same length of time; both contain exactly the same amount of active ingredients.
A bottle of Daily Essential Nutrients Powder is very similar in size and weight to a 360-capsule Daily Essential Nutrients bottle which will keep the shipping costs for both will be nearly identical!
We look forward to receiving your feedback on our new Powder. Feel free to call us or send an email: feedback@hardynutritionals.com