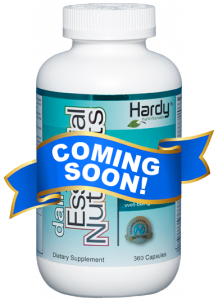 We are very pleased that our new, more concentrated Daily Essential Nutrients capsules are now in the final stages of production and should be available to ship before the end of June 2015.

Because this is our very first batch of product produced through our new manufacturer, we've taken some extra time to ensure that our mineral chelation is done just right. Though it has taken longer to produce than we expected, we're very glad that our new manufacturer stands firmly behind their reputation for exceeding good manufacturing practices and meeting all the United States Food and Drug Administration requirements.

Visit www.GetHardy.com to pre-order the new capsules today. Your card will not be charged until your order ships. The new powder version of Daily Essential Nutrients should be available by the end of July 2015. We appreciate the patience of those who have already pre-ordered.

The old 450 count Daily Essential Nutrients formula will be available to current customers by phone order only.

We are very excited to offer an improved product that is less bulky but delivers the same essential nutrient guarantees in each capsule!