A revolution is taking place, and it all started with a couple of skeptical researchers
Decades ago, on a routine day at the lab, Dr. Bonnie Kaplan received an incoming fax from a research colleague featuring a graph demonstrating the relationship between behavior in children with ADHD and nutrition. Dr, Kaplan recalls, "At first, I refused to consider that nutrients and mental health were linked." Dr. Kaplan recounts a time when the research community was hostile towards nutrition-based alternatives to psychiatric medication. In fact, the notion of a link between micronutrients and mental health was considered downright absurd by the vast majority of healthcare providers only a handful of years ago.
Dr. Kaplan has since dedicated her career to studying the impact of micronutrients on mental health, with staggeringly positive results, and the belief that mood and food are connected is becoming mainstream.
Evidence shows a specialized blend of micronutrients improves mood, attention, sleep & overall function (and it's drug-free!)
Over the past couple of decades, Dr. Kaplan and her colleagues have continued studying the impact of highly-concentrated levels of vitamins and minerals on the brain. Most recently, one of Dr. Kaplan's former students, Dr. Julia Rucklidge, a now prolific researcher in the field of mental health and nutrition, has published the first-ever randomized double-blind placebo-controlled trial on a specific formulation of micronutrients in children with ADHD. The formula, called Daily Essential Nutrients, was demonstrated to significantly improve mood, focus, and even to reduce anxiety and depression in study participants. This landmark double-blind placebo-controlled study was followed up on one year later, and those who stayed on Daily Essential Nutrients continued to see even more improvements in their symptoms over the year following the study.
There have now been multiple university studies published on clinical micronutrients including Daily Essential Nutrients for a wide range of brain-related topics such as:
ADHD
Anxiety
Autism
Bipolar disorder
Brain injury
Depression
Insomnia
Psychosis
PTSD
Stress
What is so special about clinical micronutrients? It all starts with high levels of each ingredient. Every single essential vitamin and mineral is provided at a concentrated level, much higher than you would find in a multivitamin at the health food store. But the
amounts of vitamins and minerals are still well within the established safety ranges. The ingredients are also microground, and therefore much easier for the body to absorb.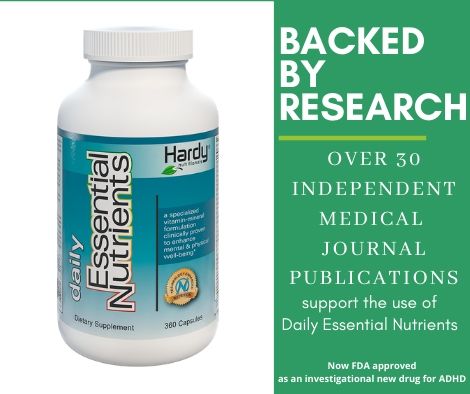 Once the nutrients enter the bloodstream, the body is able to put them to good use. Unlike medications, which work to cover-up symptoms, the micronutrients aim to repair the systems and functions that are improperly functioning at the root cause. Is it a magic cure-all pill? No - but it does provide the body with every single essential nutrient required to function optimally and has been clinically proven to be a safe and effective treatment for mood and mental health. In fact, the Daily Essential Nutrients formulation is now FDA approved as an investigational new drug for ADHD.
Newly Published Double-Blind Research
In 2019, a study titled "Mineral-Vitamin Treatment Associated with Remission in Attention-Deficit/Hyperactivity Disorder Symptoms and Related Problems: 1-Year Naturalistic Outcomes of a 10-Week Randomized Placebo-Controlled Trial" was published in The Journal of Child and Adolescent Psychopharmacology. This study was a follow-up to the original study which was published in The Journal of Child Psychology and Psychiatry in 2017 titled "Vitamin-mineral treatment improves aggression and emotional regulation in children with ADHD: a fully blinded, randomized, placebo-controlled trial".
The vitamin-mineral treatment studied is Daily Essential Nutrients, formulated by Hardy Nutritionals®.
The original trial is a landmark study for ADHD, the first of its kind. The research demonstrated significant improvements in the children's symptoms in both the original study and the one-year follow-up trial. While Daily Essential Nutrients is clinically validated for use across a wide range of mood and mental health disorders for both children and adults, this new research focuses specifically on children with ADHD.
Daily Essential Nutrients improved the "inattention" part of ADHD much better than placebo in the study. Children with ADHD often have mood dysregulation problems and researchers measured those outcomes as well, rated by both parents and teachers. Daily Essential Nutrients dramatically improved both inattention/impulsivity and mood control in children with ADHD. "These measures tapped into behaviors such as hot tempers, fights with other children, explosive angry outbursts, moods changing rapidly for no reason."
Twice as many children who received the Daily Essential Nutrients were significantly improved compared to those who received placebo. The researchers found that the children studied were better able to function overall just after 10 weeks of taking the Daily Essential Nutrients micronutrient blend.
Learn more at Try.HardyNutritionals.com