We are pleased to share this exciting segment, featured on Modern Living With Kathy Ireland® which explores the benefits of Hardy Nutritionals® Daily Essential Nutrients micronutrient therapy and its impact on patients worldwide.


David Hardy, founder of Hardy Nutritionals® and formulator of Daily Essential Nutrients and Optimal Balance™ micronutrient therapies sat down with one of Forbes Top 50 Most Successful Women, Kathy Ireland, on the set of Modern Living With Kathy Ireland® as sponsored programming, to discuss the scientific evidence and clinical applications for Hardy Nutritionals® products.

During the engaging interview, Kathy Ireland asks David Hardy,"We're often taught that our bodies' nutritional requirements can be met through food. Why do you think we need to rethink this?"

To which Hardy responds, "There is no real scientific evidence to support that. It used to be so, but it isn't anymore...Clear evidence shows that we are not getting what we need out of our foods, even if they're carefully selected....deficiencies of these essential elements in the body do nasty things like kill brain cells [which is] scientifically proven for at least seven elements..." He goes on to explain more in the interview (full video above).

During the segment, a patient, who also happens to be a practicing therapist, shares her experience with Daily Essential Nutrients, Hardy Nutritionals® clinical strength micronutrient formula.

The patient shares, "Prior to taking Hardy Nutritionals® products I was being treated for a mood disorder, OCD and some remitting PTSD from my childhood that gave me symptoms of hypo-manic episodes, spending out of control and bulimia...I called Hardy [Nutritionals]® and started on the product. Using Hardy Nutritionals® supplements has helped me immensely to reduce the symptoms that I had of several mental illnesses that I live with...Also with no side effects."
So why are people choosing to use Hardy Nutritionals® micronutrient therapies?
David Hardy says, "The most powerful priority in our diet really needs to ensure that we get the essential elements of life, because they are part of every metabolic pathway in the body. Without them, those pathways break down, don't produce what our bodies need, and cause problems."

He continues, "Our formula is impacting people's lives in many ways. First of all, it's giving a lot of relief to people with mental illness. Some who have not had relief with medications have found complete relief. There are several published studies for instance that show people who have been on medications for years and years, and in just a matter of months we have been able to change them around and give them their life back...[with] never-before-seen results that are really significant, and we are really excited about that...this offers an alternative without the severe side-effects of medications."

Kathy Ireland asks if there is scientific evidence to prove that Daily Essential Nutrients is effective.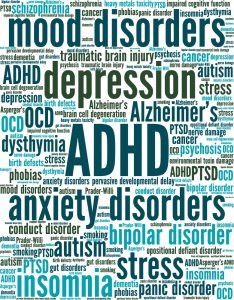 "Absolutely...we've accumulated approximately 30 medical journal publishings, including double-blind studies that show absolutely that this works. There are doctors who have been using medications, like Charles Popper from Harvard University for instance, who uses our product and finds better success with it than any combination of medication that he can throw at his patients, and he's the world's expert on medication, so it's amazing."

"None of the over the counter formulations have produced these kinds of results," Hardy explains.

Later in the segment, Dr. Lawrence Cormier, Integrative Psychiatrist is interviewed and states, "Many of the assumptions we've had as pharmacologists, or psychopharmacologists in our field, come into question. For instance, some of the patients who are most responsive to the broad-spectrum treatment are those who are treatment-naive, those who are more severely disturbed. Particularly if they have a condition characterized by unstable or irritable moods or bipolar illness, particularly those who have not had years of treatment, respond the quickest and the most dramatically."

Dr. Scott Shannon of Colorado's Wholeness Center shares his experience recommending Hardy Nutritionals® Daily Essential Nutrients to patients in his practice. "Here at Wholeness Center, in terms of [a] broad-spectrum micronutrient for mood disorders, the Daily Essential Nutrients are the product that we carry. I do a lot of teaching in the Integrative Medicine, Integrative Psychiatry world... I think my peers realize that our psychiatric treatments have limited efficacy and very significant risk issues and side-effects...and I think I see better results with fewer side effects with Daily Essential Nutrients."

Watch the entire segment above or tune in to see the Hardy Nutritionals® feature story on E! Entertainment as sponsored programming on Thursday September 8, 2016 at 6:30am EST/PST and on Bloomberg International on Sunday, September 11, 2016 at 7:00am GMT and 10:00am D.F. and 2:30pm HKT.

About Modern Living With Kathy Ireland®

Modern Living with Kathy Ireland® is a weekly business television program featuring real-world insights from corporate executives from all over the globe.

Modern Living with Kathy Ireland® airs Thursday mornings throughout North America on E! Entertainment Network as part of their sponsored programming lineup and to over 50 countries throughout the world on Sundays on Bloomberg International as part of their sponsored programming lineup.