We are pleased to announce that our newly-formulated Hardy Nutritionals® Bone Health Essentials supplement is now available.
About Bone Health Essentials

Bone Health Essentials contains key minerals and vitamins our bodies need to restore and maintain healthy bones and connective tissues (including calcium, phosphorus, magnesium, boron, silicon, vitamin D, vitamin K, and vitamin C).[1],[2],[3] *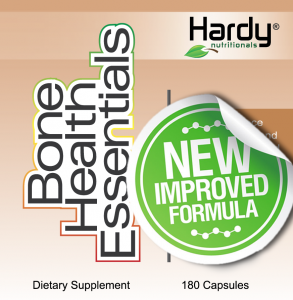 It is designed to be taken together with Hardy Nutritionals® Daily Essential Nutrients or Optimal Balance™ to ensure delivery of all essential nutrients for general health and complete bone health (including zinc, copper, and manganese, among others).*

Taking Balanced Free-form Aminos in addition to Bone Health Essentials is important for people whose goal is to restore bone health. During healing, bones synthesize new proteins which can be made only from an adequate supply of amino acids. The balance of amino acids in Balanced Free-form Aminos, based on the natural amino acid profile of human milk, is formulated to be optimal for human needs.*
Bone Health Essentials Supplement: Forms of Nutrients Matter!

In our proprietary Bone Health Essentials blend, we've included bamboo stem extract as a concentrated food source of silicon. It's interesting that while consuming almost exclusively bamboo leaves and stems, giant panda bears develop a large, healthy skeleton. Bamboo leaves and stems also contain many other nutrients essential for bone health, such as amino acids, calcium, magnesium, zinc and copper.

Optimal bone health requires significant levels of many minerals. Our proprietary NutraTek™-enhanced mineral delivery technology combines each mineral with organic molecules - just like nature - to optimize absorption and distribution to body cells. This enables each mineral to be much more useful to the body than the common rock-form minerals used in most supplements.*

In addition to vitamin D, we've included two natural forms of vitamin K (phylloquinone and menaquinone-7) to enhance bone strength and prevent fractures.[4]
Bone Health: What Matters to You

By popular demand, Bone Health Essentials is contained in vegetarian capsules and comes lactose- and gluten-free.

[1] Price CT, Langford JR, Liporace FA. Essential Nutrients for Bone Health and a Review of their Availability in the Average North American Diet. Open Orthop J. 2012;6:143-9.
[2] Nielsen FH. Update on the possible nutritional importance of silicon. J Trace Elem Med Biol. 2014 Oct;28(4):379-82.
[3] Nielsen FH. Update on human health effects of boron. J Trace Elem Med Biol. 2014 Oct;28(4):383-7.
[4] Veronese N, Bano G, Bertozzo G, Granziera S, Solmi M, Manzato E, Sergi G, Cohen AT, Correll CU. Vitamin K antagonists' use and fracture risk: results from a systematic review and meta-analysis. J Thromb Haemost. 2015 Sep;13(9):1665-75.