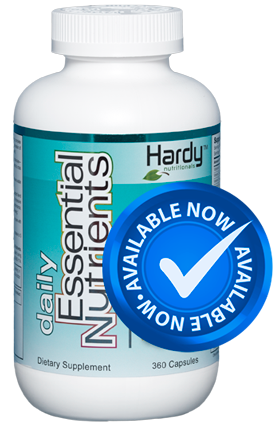 We are pleased to announce that our new, concentrated Daily Essential Nutrients is now available on our www.GetHardy.com store. All pre-orders have already been sent.

More about this Product Innovation

A few weeks ago, we announced on our NutraTalk Blog that our scientists created a new, concentrated Hardy Nutritionals® Daily Essential Nutrients formula, which now delivers 25% more of each ingredient per capsule. The blog article also gives a detailed comparison of what else is improved, what's the same, and how we did it.

The best part is that you'll experience the benefits of our new, concentrated product for exactly the same price as our old Daily Essential Nutrients formula, even though some of the costs of key ingredients are more expensive.

Hardy Nutritionals® founder, David Hardy recently stated, "We refuse to compromise on performance for anything. So we couldn't be more pleased that we have been able to effectively reduce the bulk of the formula while keeping the same nutrient guarantees."

This newest Daily Essential Nutrients formulation is the culmination of nearly 20 years of research and product development. Since the inception of David Hardy's idea to use a specialized complex of essential vitamins and minerals to treat serious mood disorders, many formulation changes have been made based on valuable feedback from health professionals and customers.

David Hardy summarizes, "We're very pleased with the results we've seen over the years that have greatly improved the effectiveness and tolerability of our formulation. As new research comes out, we will continue to focus on improving our formulation in any way that we can. Our scientists are highly-motivated to keep Hardy Nutritionals® at the forefront of nutritional health research and product development."